24th March 2022 17:00 CEST
The PUPOL Early Career Network launches regular informal event series: Online Brown Bag Sessions. Our aim is to create a virtual forum for professionals and scholars with different scientific backgrounds to discuss important ideas and questions. The first topic is the dark side of public and political leadership.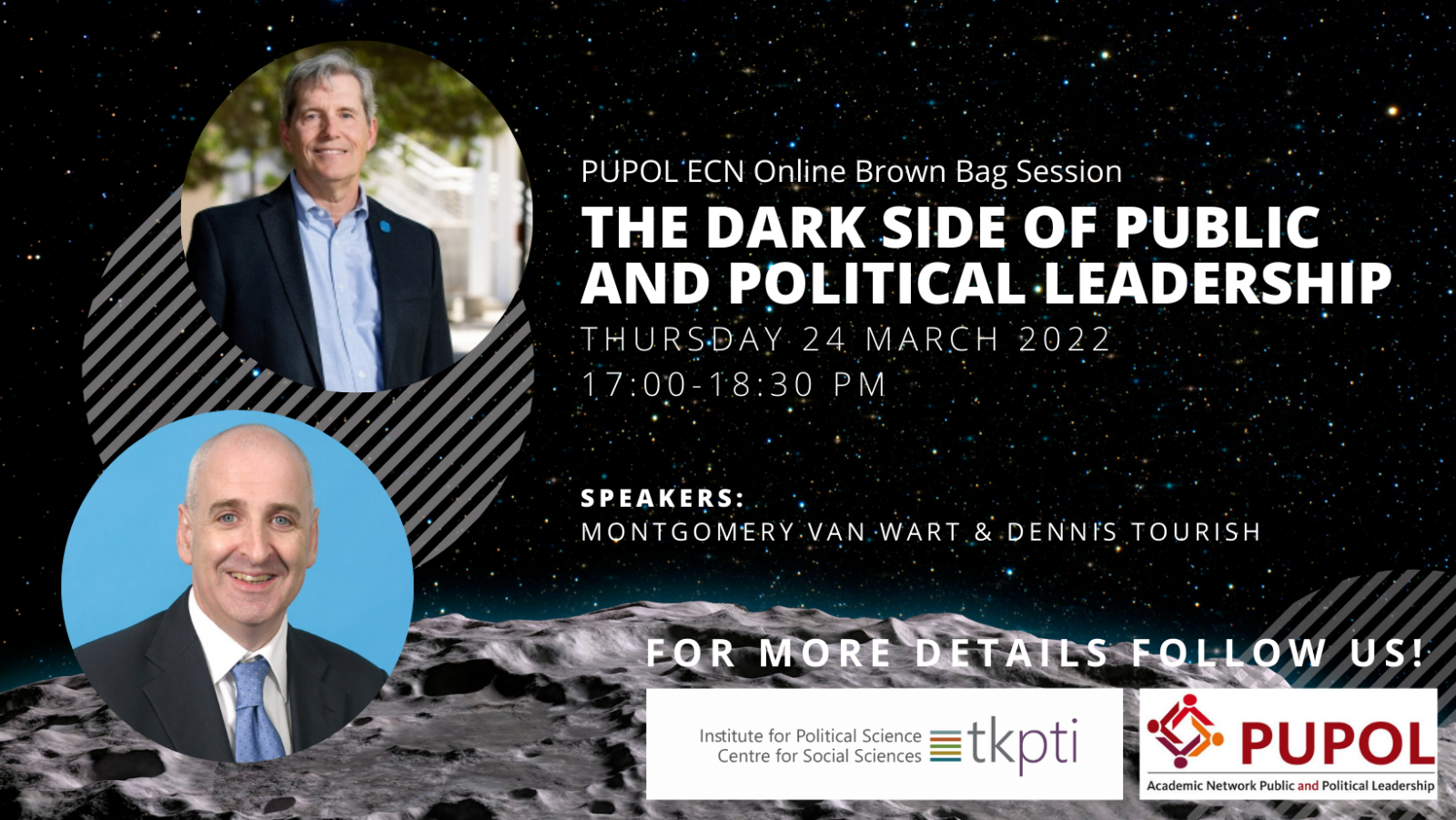 The events of recent years have again summoned the 'Hitler's ghost' (Kellerman) or evoked the 'Hitler's problem' (Ciulla) that is constantly haunting leadership researchers. The literature is often overwhelmed by two high or over-romanticized expectations of leadership covering its negative effects. From time to time, however, critical voices emerge focusing on: bad, destructive, narcissist, evil, toxic, and too strong leaders. What does make leadership bad? What kind of negative impact can leadership have on society and democratic politics? What is the leader's role in this? Why do bad leaders rely on ideological, populist, and quasi-religious political cults? What are the characteristics of these cults? What are the responsibilities of the followers in this 'bad' or 'toxic' relationship?
These issues are particularly important for public and political leadership studies since leaders have to abide by the written and unwritten rules and values of democratic and constitutional regimes. Our invited speakers will help us to answer these questions.
Dennis Tourish is Professor of Leadership and Organisation Studies at the University of Sussex Business School and the editor of the journal Leadership. His research focuses on the dark side of leadership and hubris in leadership. He has published many books and articles on these topics. The most notable one is the book entitled 'The Dark Side of Transformational Leadership' (Routledge, 2013). Dennis Tourish's latest book is 'Management Studies in Crisis: Fraud, Deception and Meaningless Research', published by Cambridge University Press in 2019. His article entitled 'The triumph of nonsense in management studies' in the Academy of Management Learning & Education won the paper of the year award. Dennis has also contributed a chapter on 'Leadership and cults' to the SAGE Handbook of Leadership (2011).
Montgomery Van Wart is University Faculty Research Fellow at California State University, San Bernardino. As one of the most cited authors in public leadership, he published numerous books and articles on this topic. His eleven books include 'Dynamics of Leadership in Public Service: Theory and Practice' (2nd edition, Choice Award for Outstanding Academic Title), 'Leadership in Public Organizations' (3rd edition) and 'Human Resource Management in Public Service' (with others, 7th edition, Best Public Sector HR Book by ASPA). He helped redesign the Code of Ethics for the American Society for Public Administration (ASPA), is the Associate Editor for Public Performance and Management Review and also serves on numerous editorial boards. He has received numerous awards for research. Recently, he started to look at the dark side of public and political leadership and published an article about it entitled: The Dark Side of Resilient Leaders: Vampire Leadership.
The event is hosted by Rudolf Metz and Institute for Political Science, Centre for Social Sciences, Hungary
Please sign up here for the event link!
The session will take place online via Zoom.